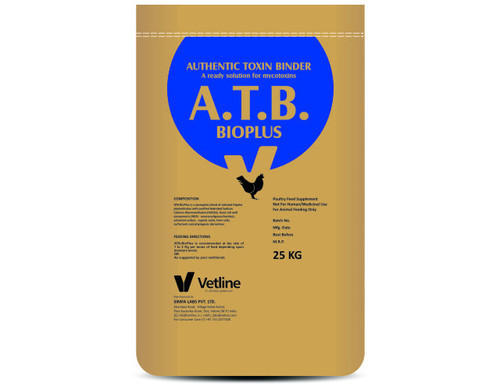 Ask for Price
We are leading manufacturer and exporter of ATB BioPlus (Mycotoxin Binder) and our product is made up of good quality.
ATB BioPlus is a multifunctional broadspectrum mycotoxin binder designed to bind the toxins in feed and protect the animals from their ill effects.
Feed raw material and finished feeds are inevitably contaminated with wide range of moulds and mycotoxins resulting in reduction of quality and palatability of feed. Mycotoxins are a group of chemicals produced by certain fungi when they get a conducive environment.
Microbiological contamination with mycotoxins in raw material and finished feed will result in,
Loss of nutritive value
Change in physical properties
Contamination with pathogens
Poor FCR
Reduced palatability
Presence of Mycotoxins
Poor immune status
Reduced production
Carefully selected mineral clays along with organic acids are effective in binding toxins and inhibiting Moulds. MOS helps in preventing pathogen population and prevents multiple mycotoxicosis. Activated Charcoal prevents Ochratoxicosis.
ATB BioPlus is recommended at the rate of 1 to 2 Kg per ton of feed depending upon moisture levels or as suggested by your nutritionist.