DESCRIPTION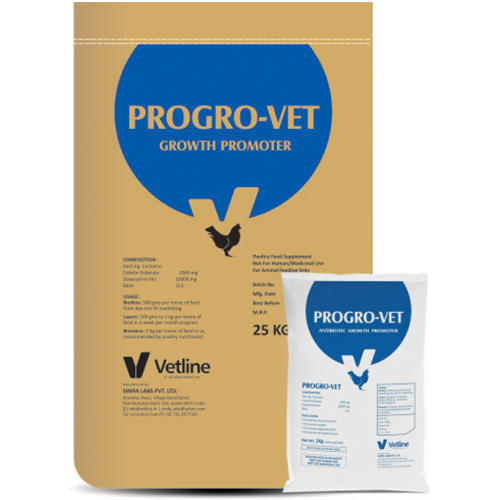 Ask for Price
We are leading manufacturer and exporter of ProGroVet (Growth Promoter) and our product is made up of good quality.
High levels of bacterial load are scattered in the farm environment. Use of antibiotics in feed has proved to be essential from time to time for improving feed conversion, egg production, weight gain in broilers and control of stress caused by sub clinical bacteria.
Using only Colistin Sulphate or only Doxycycline may lead to limitation in use due to spectrum of action and the problem of developing resistance. Providing protection and growth under one shell, PROGRO-VET overcomes higher bacterial load.
COLISTIN is unique Peptide Antibiotic effective against gram negative organisms present in Gastrointestinal tract. It accelerates powerful anti-bacterial action against organisms causing enteric infection.
DOXYCYCLINE in PROGRO-VET acts synergistically in extremely small doses to make their use highly cost effective.
Vitamins are essential for the proper operation of many physiological functions.
Specifications
COMPOSITION
Each Kg. contains
| | |
| --- | --- |
| Colistin Sulphate | 2 gm |
| Doxycycline HCl | 10 gm |
| Base | q.s. |
Inclusion:
500 gm/ ton of feed in broilers
500-1000 gm/ton of feed in layers (one week per month)
2 Kg/ ton of feed in breeders (one week per month)
USAGE
Broilers : 500 gms per tonne of feed from day one till marketing Layers


Breeders : 2 kg per tonne of feed a week per month programme or As recommended by poultry nutritionist
PRESENTATION
1 kg, 25 kg
PROGRO-VET is uniformly blended antibiotic growth promoter to boost the performance.
RECOMMENDATION
Better feed conversion hence increased weight gain
To control & prevent subclinical infections at all stages
To Control and prevent bacterial diarrhoea
To prevent uneven & retarded growth
To Improve liveability
Safe to use in chicks