Oxylock (Antioxidant)
Antioxidant
Locks Oxidation, Preserves Nutrition
OXYLOCK is a powerful combination of Antioxidants Chemical and Chelating Agents which prevent oxidation in feed ingredients, compound feed and premixes.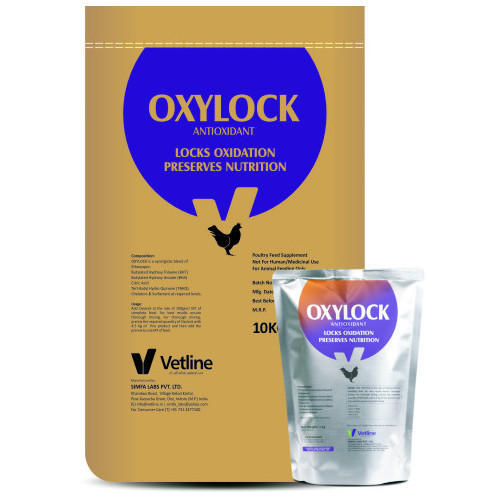 Ask for Price
We are leading manufacturer and exporter of Oxylock (Antioxidant) and our product is made up of good quality.
Antioxidants Chemical can be defined as a spontaneous irreversible chemical reaction in which molecular oxygen combines with nutrient principles in feed or raw materials, resulting in, "rancidity". Animal fats, vegetable oils, fish & liver oil, vitamins and pigments are highly susceptible to this spontaneous reaction.
PROBLEMS ASSOCIATED WITH AUTOXIDATION OF FEEDSTUFFS Destruction of fat soluble vitamins & xanthophylls
FEATURES
Destruction of fat soluble vitamins & xanthophylls.
Decrease in feed palatability.
Loss of protein and energy content.
Creation of toxic metabolites.
An ideal Antioxidant system can protect the feed from all the above mentioned problems.
COMPONENTS OF AN IDEAL ANTIOXIDANT SYSTEM
Must contain chelators.
Must contain an excellent quality antioxidant.
Should contain surfactants to aid diffusion.
OXYLOCK contains all the components of an ideal Antioxidant and thus is a Complete Antioxidant.
Premix the required quantity of OXYLOCK with 4-5 Kg of fine product and then add the premix to one MT of feed.