Enzymes

HiZyme P-5000 (Phytase)
PHYTASE 5000 FTU/g
For Phosphorus Maximisation in Poultry Feeds
DESCRIPTION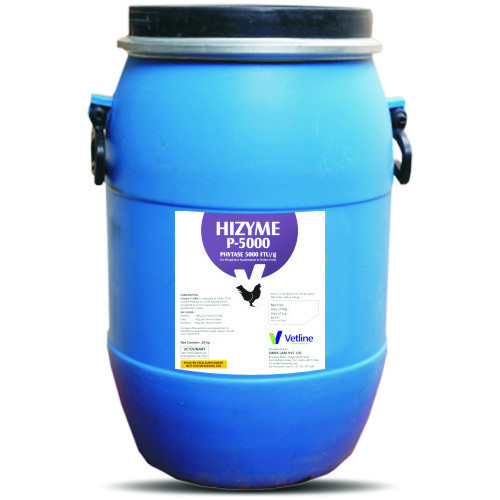 Ask for Price
HiZyme P-5000 Containing phytase enzyme cleaves the phytate phosphorous, thereby increases the availability of phosphorous. It reduces the phosphorous waste by 30-50 %. It is the only enzyme that releases phosphorus of plant origin.
COMPONENTS
HiZyme P-5000 is composed of 5000 FTU/ gram of enzyme Phytase on a free flowing carrier, converted in to micro-granules for uniform distribution in feed.
INDICATIONS / BENEFITS
To hydrolyze phytate present in feed ingredients/ raw materials
To release phytate phosphorous
To release the bound minerals, proteins and amino acids from phytate complex
To reduce phosphorous waste
To effectively replace DiCalcium Phosphate (DCP) & MCP
Less environmental pollution with phosphorus
Microgranulated product helps in better mixing in the feed
MIXING RATIO
HiZyme P-5000 is recommended to replace in-organic phosphorus supplementation as per following recommendations:
| | |
| --- | --- |
| Broilers | 100 g per tonne of feed |
| Layers | 60 g per tonne of feed |
| Breeders | 60 g per tonne of feed |
Poultry Feed Enzymes are for Feed Reformulation and adjustment of Phosphorus and Calcium levels, please consult your nutritionist.
PRESENTATION
1 Kg / 20 Kg /25 Kg

DESCRIPTION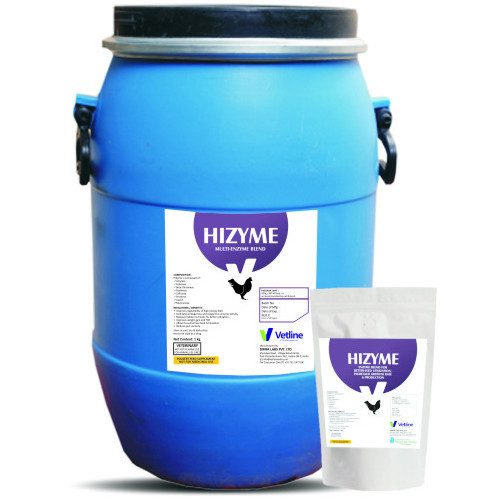 Ask for Price
Hizyme (Multi-Enzymes) contains the optimum blend of enzymes to suit both high energy diets for broilers and fibre rich diets for commercial layers. Feed with high corn-soya proportion is rich in Non-Starch Polysaccharides, which increases the gut viscosity thereby, reduces the nutrient availability. Hizyme breaks down the Non -Starch Polysaccharides present in the fibre fraction of corn, wheat, soya, sunflower extract, DORB, other fiber rich ingredients and releases the hidden energy from the feed stuffs. It also helps reduce gut viscosity.
Specifications
COMPOSITION
HiZyme is composed of:
Amylase
Xylanase
Beta-Glucanase
Pectinase
Cellulase
Protease
Lipase
Mannanase
INDICATIONS / BENEFITS
Animal Feed Fat improves digestibility of high energy feed
Facilitates endogenous and exogenous enzyme activity
Releases hidden nutrients for better utilization
Animal Feed Fat improves weight gain and FCR
Allows to economise feed formulation-Least Cost Formulation
Reduces gut viscosity
MIXING RATIO
HiZyme is recommended at 500 g / ton of feed or as recommended by nutritionist
Inclusion Levels:
For Broilers/ Layers/ Breeders (birds of all ages) 500 gm per Ton of feed or as recommended by the nutritionist
PRESENTATION
1 Kg / 20 Kg /25 Kg

©
VETLINE (A Division Of Simfa Labs Pvt Ltd )
. All Rights Reserved (
Terms of Use
)
Developed and Managed by
IndiaMART InterMESH Limited